<![if !vml]>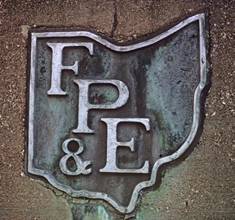 <![endif]>
FAIRPORT, PAINESVILLE & EASTERN
RAILROAD/RAILWAY
The Gist of It …
            The Fairport, Painesville & Eastern Railroad was a short line railroad located in northeastern Ohio.  It was established in 1910, and was intended to extend from Fairport Harbor (in Lake County) to Austinburg (in Ashtabula County).  Though the FP&E briefly made it as far east as Harpersfield Township (just east of the Lake County-Ashtabula County border), it never made it to Austinburg, and for most of the railroad's existence Perry, Ohio was the eastern end of the line.  The FP&E was an independent railroad until 1968, when the Norfolk & Western Railway and the Penn Central Company jointly took control of it.  Despite being owned by a couple of 'big railroads' and having a slightly different name (Fairport, Painesville & Eastern Railway instead of Fairport, Painesville & Eastern Railroad ), the FP&E continued to operate until it was merged into the N&W in 1984.  The former FP&E main line between Perry and Fairport Harbor still exists today, but now it is just a branch line of the Norfolk Southern Railway, and is known as the Fairport Industrial Track (part of the Pittsburgh Division).
Some Background …
I have been interested in trains since my childhood, so having been born and raised in the city of Painesville it was natural for me to have an interest in my hometown railroad (actually the FP&E went through Painesville Township rather than the city of Painesville proper, but that's close enough for me).  In addition to the hometown connection, it turns out I have some family connections to the FP&E as well:  My great-grandpa John S. Merrill was on the FP&E's Board of Directors from 1913 through 1917, and my great-uncle Bill Lockhart worked on the railroad from November 1938 to November 1952 (his last position was Fireman).  Since I grew up in the 1970s—long after my relatives' experiences with the railroad had passed—I had no awareness of the family connection to the railroad; instead, my interest in the FP&E was sparked by my experiences of the railroad as a youngster: seeing yellow diesels with loud clanging bells switching cars in the West Yard whenever my parents took my sister and I to a function in Fairport Harbor (usually the Mardi Gras).
Up until the end of 2008, I had a very small collection of materials about the FP&E, and thought that there wasn't much more information to be had.  Then a discussion on the Yahoo Group "clevelandrails" led me to do some web searching, and suddenly I found leads to a whole slew of information I didn't know about before: Interstate Commerce Commission reports.  Fortunately, I found a library close to home that had all the ICC reports ever published, and was able to make copies of every ICC report I could find on the FP&E.  These documents, along with other materials I found/collected afterward, enabled me to figure out a good portion of the history of the rail line—and now I'm ready to assemble this information to share with others.
By following the links below you will find information such as a detailed chronology/history of the FP&E, some system maps, a detailed roster of the FP&E's diesel locomotives and rolling stock, some photos of the diesels, and details about the FP&E's operations.  In addition, for those that want to collect their own materials on the FP&E I have some information on resources you can find/use.  And since you can't really talk about the Fairport, Painesville & Eastern without talking about its most important and largest customer—the Diamond Alkali Corporation (later Diamond Shamrock)—I have a webpage dedicated to information about the Diamond's Painesville Works.
The Good Stuff …
Click here to read my chronology/history of the FP&E.
An earlier version can be found on George Elwood's website "Fallen Flags and Other Railroad Photos" (click here and scroll down.)
Click here for maps of the FP&E.
Click here for the FP&E's steam locomotive roster.
Click here for the FP&E's diesel locomotive roster/history.
Click here for some pictures of FP&E diesel locomotives and links to other FP&E photos that can be found on the world wide web.
Click here for the FP&E's freight car roster.
Click here to read a transcription of the FP&E's Employee Time Table #1, issued in 1932.
Click here for information about the FP&E's operations during the diesel era.
Click here for traffic data from the FP&E's diesel era.
Click here for a guide to some FP&E resources.
Click here for information about the unique relationship between Diamond Alkali and the FP&E.
Click here for information about the Diamond Alkali/Shamrock Painesville Works.
Click here for information about the other industries served by the FP&E.
Click here to see FP&E photos from my & other people's collections.
 BOOK NEWS   At the end of August 2021 a book about Baltimore & Ohio's Lake Branch was released, and it features over 30 pages of material about the FP&E and the Diamond!  The book is titled Ghost Rails XIX: B&O Lakers, and was written by noted 'ghost rail' historian Wayne A. Cole.
Click here to view more information and find out how to order a copy.
Questions? Comments?
Contact me at:
<![if !vml]>

<![endif]>
About the picture: The herald featured on the top of this webpage was cast into the original US Route 20 highway bridge that crossed over the FP&E's main line in Painesville Township, and could only be seen by FP&E train crews (the overpass has since been reconstructed).  Glenn Anderson risked life and limb climbing up a steep embankment to take this picture in 1968.
Created by Scott Nixon
July 2009
Updated: September 2009, October 2010, April 2011, November 2012, June 2021, September 2021